K5CM FMT June 27, 2012 (9 PM CDT)
TX Frequencies
K5CM 20 - 14145003.423 with a reference of 14005000.000 (140 KHz delta)
---
Jeff, W3JW used his two receiver technique to measure within .002 Hz of the FMT signal. He notes that loss of correlation is starting show up at this delta. N3FG also turns in a very close reading at .003 mhz low.
Because of IMD issues I held my output power to 10 watts per carrier. I'm working on this issue and hope to increase the power to a more respectable level, on the next high delta FMT.
---
K5CM 20 Meters (9:00 CDT)
Call
Section
Grid
TX Frequency
Measured Freq
Error in Hz
Error in PPX
W3JW-E
VA
FM17TN
14145003.423
14145003.425
0.002
1.41E-10
There was not as much doppler shift as in previous tests but there was a lot of "dissimilarity" between the two traces at many points in the transmission. During previous tests, the traces correlated much more closely. Signal was of good strength and the band was very quiet at this location. Heard the CW activity at the low end of the band, but none of it was close enough to your frequency to appear on my SL display (but it was only 20 Hz wide).
W3JW-W
VA
FM17TN
14145003.423
14145003.425
0.002
1.41E-10
My averages for both the east and west transmissions yielded the same value.
N3FG
EPA
FM29
14145003.423
14145003.420
-0.003
2.12E-10
Mny tnx Connie.
KM6QX
EB
CM87
14145003.423
14145003.437
0.014
9.90E-10
I went back to using Fldigi and switched receiver back and forth between 14.005 and ~14.145. Then eyeballed 'stable' sections of Freq Analysis graph (knowing both were Doppler shifted).

I was waiting for West run to get a good recording,,, then saw the email.

Signal was S7 with lots of faddng.
VE3DNL_e
ON
FN03BF
14145003.423
14145003.438
0.015
1.06E-09
Reference used to calibrate receiver. Receiver's Si570 VFO was squirrelly, limiting resolution. SpectrumLab FFT processed recorded audio.
VE3OAT
ON
FN25eg
14145003.423
14145003.440
0.017
1.20E-09
Single frequency method (no reference frequency).

Lots of Doppler spreading, East beam S3-5, West beam barely detectable at times on my vertical receiving antenna.

Submitted freq is for East beam only.

Using GPS-disciplined 1 kHz calibrator for frequency comparison with SpectrumLab software.

As always, thanks, Connie, for these challenges.

VE3DNL_w
ON
FN03BF
14145003.423
14145003.450
0.027
1.91E-09
Weak signal having two nearly equal peaks. Squirrelly VFO. Used lower reference signal to calibrate offset. All homebrew receiver and offset generator. Should be in a box, rather than scattered on the rug.
K1GGI
EMA
FN41
14145003.423
14145003.390
-0.033
2.33E-09
This was a rough one. Used dual watch in AM, and didnt cut the rf gain, so the qrm kept the agc pumping. Used the scope and tried to match the Spectrum Lab generator to the recorded beat (when visible). Calibrated with a pair of carriers at 5000 and 5140kc. And now we hope.
W8XN
MI
EN82dg
14145003.423
14145003.474
0.051
3.61E-09
This was a tough call. The cross-correlation routine failed to pick a clear winner, which probably indicates that Doppler is beginning to decorrelate at this frequency separation. The mysterious and untested Jacobsen interpolation algorithm was hastily coded to sort things out, so I could be way off. The Doppler shift and spread were about the same as last time, namely near zero and 0.25 mHz FWHM, respectively. Signal strength was down considerably.
K5XL
NTX
EM12kp
14145003.423
14145003.475
0.052
3.68E-09
Copy was very weak in DFW TX area.

Might have been a bit late for 20M propagation.

I alternately measured both carriers and estimated the difference, then added difference to 14.005 reference. I averaged the results of both beam headings.

Lots of fluctuating doppler as usual.

Using a Flex-1500 with rubidium ext. clock (calibrated to KLIF 570Khz in

Dallas) and SpecLab.

Thanks Connie and 73's to all.
W6OQI
LAX
DM04vf
14145003.423
14145003.032
-0.391
2.76E-08
I tried using two HP3586B to monitor each frequency but was not really able to get any useful info from the pilot signal.
N7EP
WWA
CN87
14145003.423
14145002.800
-0.623
4.40E-08
My grandsons birthday party took precedent so I recorded the FMT.

My analysis used the recorded signal spectrogram and not the reference frequency. I recorded 5 hours during which time my receiver drifted 0.265 mHz so I took a wild guess at the calibration at 7 pm PDT.

The west run was very strong and had a spread of over 1 Hz.

The east run was weaker and had a spread of about 1.5 Hz.

Iím hoping all my errors will average zero and my answer will be within 1 Hz.

KG0HY
NE
EN20
14145003.423
14144999.100
-4.323
3.06E-07
Very weak signals. Around 0217Z, your signal was -129db. Receiver WinRadio G313, used SWL dual dipole. The solar flux at 0005Z was 106 A6 K2
NF6Z
NV
DM26
14145003.423
14144996.531
-6.892
4.87E-07
Each frequency measured separately.

ppx error in reference frequency applied to test frequency.

Attempted to mathematically correct for setup mistakes.
K6BZZ
AZ
DM33xb
14145003.423
14145012.845
9.422
6.66E-07
Did not use reference signal.
W7FU
WWA
CN87xo
14145003.423
0.000
Extremely poor propagation to Seattle.

No usable data.

Can we try again soon?

73 John W7FU
---
This from Jeff, W3JW.
Connie,
This screen capture shows the two traces as received at this QTH.
Note that at many points down the waterfall; one trace does things
that the other trace does not. I would characterize this level of
correlation as "less" than at previous spacings.
73
Jeff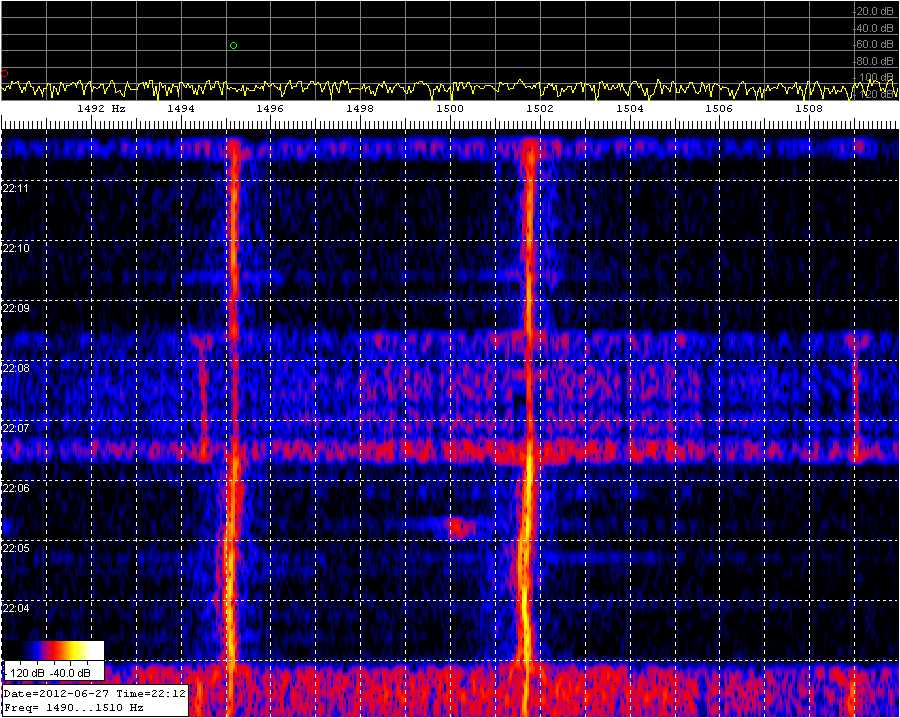 In the above spectrograph 1495 is 14.005 (the reference). 1505 is 14.145
Transmitting equipment used by K5CM for this FMT:
A HP Z3801 GPS frequency source clocks a HP-3336B and a PTS-250. The outputs are combined and feed to a 10 db transistor amp which drives a 12BY7 / pair 6146. Each signal was first set to 10 watts out. There are no mixers or any device in the chain of amplifiers that might impact the accuracy of the GPS frequency source. As a reality check, I periodically log the frequency source against WWV and other GPS referenced sources. I monitor each transmission with a completely separate receive system to look for any instability or short term drift.
I typically see considerably less than 1 mHz difference at 10 Mhz when comparing two Z3801's or a Z3801 and a Thunderbolt, over a 10 to 10,000 second period.
Antennas:
160 - Vertical
80 - New Sloping dipole. Sloping down from 140'. (favors West, North, East)
40 - Standard Dipole hanging between two 80 foot towers. (favors East, West)
20 - 4el SteppIR at 70'
Current W6OQI FMT transmitting equipment for this FMT:
My Transmitting setup consists of a HP Z3801 clocking a HP 3336B which drives a Johnson Viking I transmitter, the output of which is attenuated by a 6 db attenuator, to then drive an Icom PW-1 amplifier to about 500 watts. The antenna is an inverted Vee which favors north and south from the Los Angeles area.
Note: Because I put the results up quickly, there will be mistakes, so don't hesitate to point them out quickly.
73,
Connie
K5CM